Process Mining Techniques in Business Environments
A. Burattin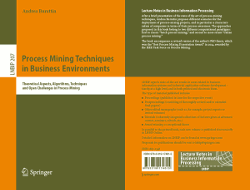 After a brief presentation of the state of the art of process-mining techniques, Andrea Burratin proposes different scenarios for the deployment of process-mining projects, and in particular a characterization of companies in terms of their process awareness. The approaches proposed in this book belong to two different computational paradigms: first to classic "batch process mining," and second to more recent "online process mining."
The book encompasses a revised version of the author's PhD thesis, which won the "Best Process Mining Dissertation Award" in 2014, awarded by the IEEE Task Force on Process Mining.
Published as Springer monograph in Lecture Notes in Business Information Processing, Vol. 207.
DOI: 10.1007/978-3-319-17482-2
ISBN: 978-3-319-17481-5
Process Mining Techniques in Business Environments